Program Overview
Information Technology (IT), and therefore, computer networking, form the backbone of business and industry today. You will have hands-on experience in all areas of the computer networking field, from programming to software applications to general networking, network management and administration. Like our other career-focused degree programs, this cybersecurity, and network engineering associate degree helps you specialize in either software engineering and web development or cybersecurity and network engineering.  You develop programming skills in languages currently in demand in the workplace, and you learn to tackle real-life cyber incidents and computer networking issues. A part of our degree programs, this associate degree arms budding computer network engineers with the skills to identify, assess, analyze, and handle potential cyber threat landscapes.
We offer one of the best engineering degrees around. The Department of Homeland Security and the National Security Agency have designated NEIT as a National Center of Academic Excellence in Cyber Defense (CAE-CD), adding credence to our network engineering and cybersecurity degree programs.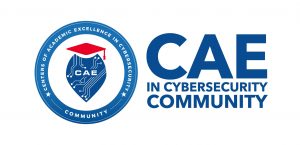 Read More
Home to Central Rhode Island's only Cyberbit Simulation Range

NEIT is home to Central Rhode Island's only Cyber Simulation Range. The NEIT Cyberbit Range is a state-of-the-art virtual simulation tool will that will provide the critical hands-on training and confidence that Cybersecurity students will need to stand out and meaningfully contribute to a real-world cybersecurity team beyond graduation. Through a partnership between New England Tech and Cyberbit, the simulation platform trains students and IT professionals through exercises that are virtually identical to the technically complex and high-pressure situations they will face in the real world.
Full Description
The Associate in Science in Cybersecurity and Network Engineering degree introduces core concepts in hardware, software, computer science, and computer network engineering fundamentals layered on cybersecurity concepts.
Our computer network engineering students apply practical cybersecurity theory to real-life cyber incidents and computer network or system issues in hands-on scenarios. The curriculum focuses on providing students the skillset they need to properly deploy and secure information technology systems in a wide range of environments. Our network engineering students learn how operating systems like Linux and Windows, along with core networking technology, play a critical role in cyber operations.  Our cybersecurity and network degree students learn about the current cyber threat landscape and taught how to assess and plan for threats in both the business and personal realms.
From multinational corporations to local small businesses, cybersecurity defense for its computer networking is an integral part of an organization's strategy. The information and the technology infrastructure it resides on are two of an organization's most valuable assets, and these are often continuously threatened or under active attack. Successful defense and protection of these computer network assets require a trained cybersecurity and computer networks professional who understands the technical aspects. This computer engineering professional is also aware of strategic business interests.
An internship course for budding computer network engineers is available in Term VI of our degree program, during which students work off-campus in an organization. To help get started in their chosen area of interest, they practice and enhance their technical computer network engineering skills. Students are also prepared to take Microsoft MCP, Microsoft Technology Associate (MTA) Security Fundamentals, CCNA Cyber Ops, and the CompTIA A+ exams.
Graduates of this program are ready for entry-level positions. They can handle computer networks and their issues as computer security specialists, information security analysts, systems administrators, and many other jobs in the computer network field. An associate degree graduate in Cybersecurity and Network Engineering can continue in the NEIT Bachelor of Science in Cybersecurity and Computer Network Engineering program to further their career.
Through input from a Technical Advisory Committee, professional cybersecurity organizations, and local businesses, this computer networks related degree program sees continuous updates. It ensures that the current cybersecurity and computer network needs and those that may arise in the next several years, are met.
Potential Career Opportunities
The Cybersecurity and Network Engineering degree provides students the skills to work with information technology systems in a wide range of industries and computer networks. A fresh graduate with this degree can get started in an entry-level position as a network administrator, computer engineering or network engineering trainee. As you gather career experience in the computer networking and cybersecurity field, opportunities open up at a national level. Like our other AS degree programs, this associate degree program in cybersecurity and network engineering also provides students with the base to prepare for a bachelor's degree or other certification in their preferred computer engineering specialization.
---
Computer Network Architect
Computer Network Technician
Entry-level Computer Network Engineer
Network and Computer Systems Administrator
General Networking Associate
Computer Systems Analyst
Cybersecurity Professional
Related Programs
Software Engineering & Web Development, AS
Learn More
Cybersecurity and Network Engineering, BS
Learn More