Program Overview
It's no secret that cybersecurity has become one of the most critical IT functions, with accelerating demand for well-educated and experienced specialists. If you're a technology professional with experience in network security, information security, cybersecurity, or software engineering, our online cybersecurity degree is ideal for you.
The Department of Homeland Security and the National Security Agency have designated NEIT as a National Center of Academic Excellence in Cyber Defense (CAE-CD), adding credence to our network engineering and cybersecurity degree programs.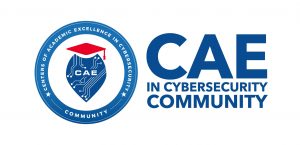 Read More
Home to Central Rhode Island's only Cyberbit Simulation Range

NEIT is home to Central Rhode Island's only Cyber Simulation Range. The NEIT Cyberbit Range is a state-of-the-art virtual simulation tool will that will provide the critical hands-on training and confidence that Cybersecurity students will need to stand out and meaningfully contribute to a real-world cybersecurity team beyond graduation. Through a partnership between New England Tech and Cyberbit, the simulation platform trains students and IT professionals through exercises that are virtually identical to the technically complex and high-pressure situations they will face in the real world.
Full Description
The Master of Science in Cybersecurity Defense (MSCD) at New England Tech aims to train information technology professionals for managerial roles. Our online cybersecurity degree is especially for individuals with networking, cybersecurity, or software engineering experience — primarily those who want to advance their leadership and cybersecurity skills.
From multinational corporations to local small businesses, cybersecurity defense is an integral piece of an organization's strategy. Why? Because today's contemporary environment has advanced computing requirements.
Universities, colleges, tech giants, manufacturing industries, agriculture – all require effective database management systems; and a master's degree enables you to take up leadership roles for managing advanced information and computer systems.
An effective cybersecurity leader requires:
a blend of operational and technical expertise
leadership and management skills to take care of projects and teams
solid foundation in the principles of cybersecurity
in-depth knowledge about computer systems
The MSCD degree blends technical knowledge and essential cybersecurity skills with business management and enterprise leadership principles that drive organizations today. The program weaves technical topics such as penetration testing and digital forensics with project management, leadership, and risk assessment.
New England Tech's Bachelor of Science Degree in Cybersecurity and Network Engineering prepares graduates to:
secure, design, implement networks
secure, design, implement databases and applications
The curriculum of the bachelor's degree helps students advance their cybersecurity knowledge and skills. Upon graduation, students can take up roles as information analysts, cybersecurity specialists, cybersecurity analysts, etc.
Our master's program works as the next step to building a successful career in cybersecurity and networking. It provides graduates with a unique curriculum that helps them understand advanced cybersecurity and information technology nuances. It helps them analyze business scenarios, assess risk, anticipate and respond to changing environments, address business impacts, and assign resources.
The program has a unique combination of advanced technical courses and an integrated management core. This approach emphasizes the relevance of continuous learning to help individuals enhance their personal and professional growth.
Employment opportunities may include leadership positions in managing computer systems and information technology systems. Other positions include Database Management Systems Security Professionals, Information Security Analysts, Director of Software Security Engineering, Chief Information Officer (CIO), and Chief Technical Officer (CTO).
MSCD's mission is built around the components of the CISSP Certification. A CISSP certificate helps professionals advance in the cybersecurity field. The mission is also developed around the requirements of the NSA Center for Academic Excellence in Cyber Defense (NSA CAE CD). 
The degree is not directly designed to prepare graduates for certification. Instead, program and course objectives are closely aligned with the CISSP and CAE CD knowledge areas.
Potential Career Opportunities
The Bureau of Labor Statistics says that the information technology experts' employment will grow by 31 percent in the future – much faster than average. Our online cybersecurity degree enables professionals to take up the following advanced roles:
---
Chief Information Officer (CIO)
Chief Information Security Officer (CISO)
Chief Technical Officer (CTO)
Director of Software Security Engineering
Incidence Response or Forensics Team Lead
Project Manager
Network Manager
Business Analyst
Systems Integrator
Information Security Analyst
Information Technology Expert
Related Programs
Information Technology, MS
Learn More
Cybersecurity and Network Engineering, BS
Learn More