With a struggling economy and unemployment on the rise, it's important to think about what industries can offer both financial security and professional growth. According to the Bureau of Labor Statistics, automotive technology is on the rise, with 46,000 professionals expected to enter the field by 2026 and job prospects slated to grow through 2028.
While today's median salary hovers around $40,000, there are reports of top-level technicians in the field earning upwards of $100,000 a year.
Of course, that kind of "master technician" status can only be achieved after years experience. Those looking into a career as an automotive technician can expect to kick off their training with the National Institute for Automotive Service Excellence (ASE).
Since 1972, the organization has helped certify over 300,000 professionals in vehicle repair, service and parts distribution. Check out the information below for more information on how to become ASE certified.
START YOUR AUTOMOTIVE CAREER
Earn your degree in Automotive Technology from NEIT and begin your new career path today!
What Does It Mean To Have Your ASE Certification?
An ASE certification communicates that an individual is qualified to work on all mechanical, electric components and systems within a vehicle. The program is designed to let shop owners and service customers gauge a technician's level of expertise before contracting them for services.
Employers looking for new hires will keep an eye out for the Automotive Service Excellence Certification on resumes, just as people in need of vehicle repairs will look for the Blue Seal of Excellence, the nationally recognized ASE emblem on a certificate, on the front door of their local auto shop.
How To Obtain An ASE Certification
An ASE Certification exam is only available to automotive technicians with two years of on the job training or one year of on the job training and two-year degree in automotive repair, though ASE certification requirements can be flexible. You can substitute a high school diploma, trade school, or community college degree for part of the Repair Technician work experience requirement.
They generally include between 40 and 75 scored, multiple-choice questions in various content areas. Tests may also include ten or more non-scored additional questions included for statistical research purposes. Answers to these questions will not affect your test score.
The test questions largely revolve around practical problems mechanics and professionals encounter in day-to-day work situations. All questions are written and approved by a team of carefully selected experts.
Each team represents a cross-section of relevant industry representatives and includes working technicians, educators, manufacturers, service directors and more. This is designed to ensure that the tests are fair for all without bias towards any specific vehicle type, make or equipment manufacturer.
ASE tests are delivered days, nights, and weekends at 450+ secure, proctored Prometric test centers and Satellite sites. When you register for ASE testing, you will have 90 days from the original date of purchase to schedule an appointment and take your test.
If you take an ASE test and receive "Pass" or "Fail" test results, you must wait 30 full days before you can purchase and schedule the same test again. The National Institute for Automotive Service Excellence (ASE) does not provide refunds for missed testing appointments.
ASE Certification Test Questions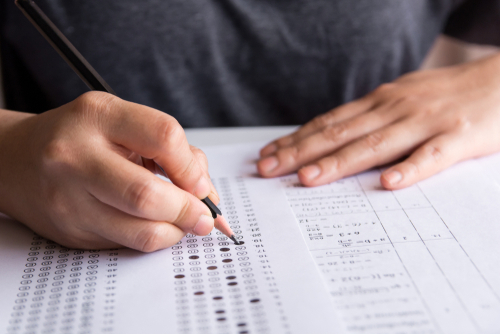 The National Institute for Automotive Service Excellence (ASE) follows best practices in high-stakes, national credentialing programs when drafting questions included in their certification tests.
All questions are developed at test-writing workshops, which typically include 10 to 15 subject matter experts. During each workshop, participants review and modify the existing job tasks necessary for success in a particular job category. Questions are then written to correspond to the job tasks.
All questions referring to diagnostic and repair scenarios are regularly updated to reflect the current technology. Trick questions and manufacturer-specific questions are not allowed. Each question is reviewed and modified by the entire workshop group for clarity and technical accuracy. Each question must include one right answer and three wrong answers.
Fees and Requirements for ASE Certification
There is a $36 registration fee per person during each registration window. There is also a $45 test fee per test, or $90 each for the L1, L2, and L3 tests. Recertification Tests cost the same as the corresponding Certification Tests: $45 each, except for Advanced Tests (L1 and L2), which are $90 each. Recertification Test fees max out at $135.
To be clear, this only limits the amount you pay to take Recertification Tests, not the number of Recertification Tests that you can take. Non-Certification Tests fees are: BMW and Subaru are $45 each; Volvo is $90.
ASE is required to collect sales tax on applicable purchases in AZ, CO, HI, NJ, NM, NY, OH, SC, SD, TX, VA, WA, and WV.
You must pass a Recertification Test every five years to maintain your ASE certification.
ASE Certification Test Series
There are over 40 ASE certification tests to choose from.
These options cover all aspects of the automotive repair and service industry. You can find test series options listed below:
Automobile & Light Truck Certification Tests (A Series)

Collection Repair & Refinish Certification Tests (B Series

Damage Analytics & Estimating Certification Test (B6)

Automobile Service Consultant Certification Test (C1)

Truck Equipment Certification Tests (E Series)

Alternate Fuels Certification Test (F1)

Auto Maintenance and Light Repair Certification Test (G1)

Transit Bus Certification Tests (H Series)

Advanced Engine Performance Specialist Certification Test (L1)

Electronic Diesel Engine Diagnosis Specialist Certification Test (L2)

Light Duty Hybrid/Electric Vehicle Specialist Test (L3)

Engine Machinist Certification Tests (M Series)

Parts Specialist Certification Tests (P Series)

School Bus Certification Tests (S Series)

Medium Heavy Truck Certification Tests (T Series)

Undercar Specialists Exhaust Systems Test (X1)

Non-Certification Assessments
ASE Certification Master Status
Technicians who pass multiple tests can earn ASE Master Status in one or more test series. ASE also offers Master Medium Heavy Vehicle Technician status to individuals certified in any combination of tests 2 through 7 in the Medium Heavy Truck, School Bus or Transit Bus test series.
Prepare for Your ASE Certification at the New England Institute of Technology
NEIT has been rated among the best institutions to receive a degree in automotive technology across the United States. We offer four automotive associate degree programs: Automotive Technology and Advanced Automotive Technology, Automotive Technology with High Performance and Advanced Automotive Technology with High Performance.
START YOUR AUTOMOTIVE CAREER
Earn your degree in Automotive Technology from NEIT and begin your new career path today!
Though all our programs cover the same core topics, the Advanced Automotive Technology degrees include more in-depth study.
These curriculums revolve around the theory of operation and service techniques attached to the systems and system components of today's automobiles. Students will also receive training in engine construction and design, engine repair, electricity, electronics, suspension, steering, brakes, transmissions, fuel systems, ignition systems, and emission controls.
Advanced training in air conditioning, drive trains, and transaxles are offered as well. We also provide a final engine performance course, which covers computerized engine controls, fuel injection systems, tailpipe emissions diagnosis, and ABS braking systems.
NEIT uses the latest industry standards, up-to-date diagnostic equipment, and Automotive Service Excellence approved curriculum in its training program. Our campus is home to several technical training and research centers, including the National Alternative Fuels Training Consortium.
We also offer internships and practical experience to provide students with a more seamless transition into the workforce.
We participate in the Mopar Career Automotive Program (CAP) LOCAL curriculum, designed and developed by Fiat Chrysler Automotive (FCA) Performance Institute. The curriculum includes a variety of self-study web-based and instructor-led courses.
The first phase of the program introduces the basics of automotive technology, from new vehicle prep, FCA online systems and the use of diagnostic scan tools. The second phase covers more complex topics to prepare students for entry-to-industry-level positions across the field.
NEIT's Automotive Technology program is Master-Certified by the National Automotive Technicians Education Foundation (NATEF).
Additional Opportunities at the New England Institute of Technology
Don't let the idea of competition discourage you from pursuing a degree in automotive technology. With baby boomers aging out of the workforce and more individuals pursuing four-years degrees and jobs outside of the industry, there is an incredibly high demand for skilled automotive technicians who can help keep up with the different tech and trends coming our way!
The study of automotive technologies is also able to introduce you to a number of different careers, diesel and collision repair to machine operator, mechanic, technician and much more. Check out some more opportunities for automotive technicians below:
Automotive Service Technician

Collision Repair Technician

Generation Technician

Heavy Equipment Mechanic

Light Wheel Mechanic

Trailer Mechanic

Shop Mechanic

Shop Foreman

Parts Manager

Quality Control Inspector

Operation Supervisor

Tow Truck Driver
Other fields related to a degree in automotive technology include:
Automotive Repair

Auto Mechanics

Avionics Maintenance

Diesel Engines Mechanics

Electromechanical Engineering Technology

Hydraulics & Fluid Power Technology

Mechanical Engineering Technology
The following industries are often in need of the services an automotive technician provides, including regular service and maintenance:
Manufacturing

Government

Hospitality

Fire Departments
For more information on our program offerings, contact our admission office today! You can also call 800-736-7344 to make an appointment to meet with an admissions officer.
Related Articles –