If you're interested in working with cars, be sure to explore our list of the best automotive trade schools. These institutions can help build your skills immediately after high school and introduce you to the workforce as soon as possible.
Why Automotive Trade Schools?
Automotive technology is everywhere, from cars that help your daily commute to diesel trucks that keep the supply chain running.
Automotive service technology is intrinsically connected to automotive technology. After all, it's the thousands of skilled technicians and mechanics in the automotive service industry that help keep your vehicles safe and operable. Despite the increase in sophisticated automobile technology, vehicles are always at risk of breaking down or incurring damage. That means there will always be plenty of work for aspiring mechanics.
If you have a passion for cars and like working in a hands-on environment, then a career as an automotive service technician is a good place to start. Not only does it provide a rewarding career path, but a profitable one as well. According to the Bureau of Labor Statistics (BLS), the median salary for diesel service technicians in the USA is
$50,200
per year, with the highest ten percent of earners pocketing over $76,000 annually.
As expectations for automobiles continue to evolve, so do the requirements for service members. Most employers prefer individuals with formal education and Automotive Service Excellence (ASE) certification. Auto mechanic schools provide the training needed to acquire this credential. They'll also introduce you to the theory and practical skills necessary for working in the field.
Another appeal surrounding technical colleges or trade schools are the costs. These institutions require less investment than a four-year university. They also offer multiple specializations, so you can excel in whatever area interests you most, from diesel technology management to electronic systems. Each field offers its own attractive set of perks and benefits.
A two-year associate of applied science in an automotive engineering technology program can help you qualify for entry-level positions as automotive mechanics and technicians. You can even choose to enroll in bachelor's degree programs if you want to continue your education to pursue higher level positions.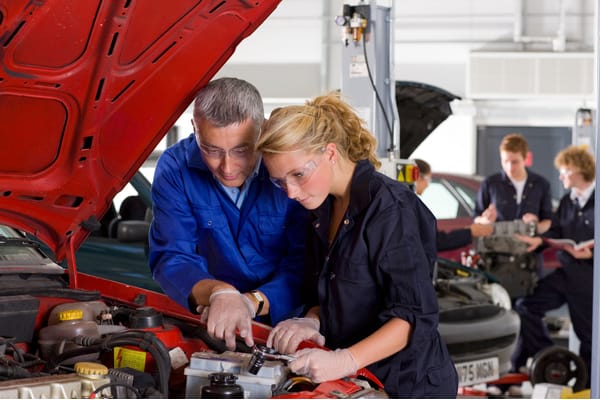 What Is an ASE Certification and How Do You Get One?
The National Institute for Automotive Service Excellence (ASE) is an independent organization that certifies automotive professionals. It conducts 52 certification tests in niche areas like engine performance, collision repair, medium and heavy trucks, and alternative fuels.
An ASE certificate demonstrates that a professional meets the organization's stringent standards for technicians. Auto mechanics and service professionals with an ASE certification can command higher salaries and expect better career growth.
If you want to obtain your ASE certificate, you must have an associate degree and at least one year of work experience. You can also complete two years of on-the-job training to meet the
eligibility requirements
. Once eligible, you can apply and pass the certification test to receive your ASE certificate.
The ASE's certification tests include the following 17 series:
Automobile and Light Truck (A Series)
Collision Repair and Refinish (B series)
Damage Analysis and Estimating (B6)
Automobile Service Consultant (C1)
Truck Equipment (E)
Alternate Fuels (F1)
Auto Maintenance and Light Repair (G1)
Transit Bus Certification (H)
Advanced Engine Performance Specialist (L1)
Electronic Diesel Engine Diagnosis Specialist (L2)
Light Duty Hybrid/Electric Vehicle Specialist (L3)
Parts Specialist (P2)
School Bus (S)
Medium-Heavy Truck (T)
Undercar Specialist Exhaust Systems (X1)
ASE Military Tactical Wheeled Vehicle (MIL)
Non-certification Assessments
Each series further constitutes specialized testing areas. Passing all the tests in a series will help you achieve a master technician status. For instance, the collision repair and refinish (B series) includes the following parts:
B2- Painting and Refinishing
B3- Non-structural Analysis and Damage Repair
B4- Structural Analysis and Damage Repair
B5- Mechanical and Electrical Components
Studying at an automotive technology trade school helps you meet the eligibility requirements for these certifications. Additionally, the knowledge and skills you acquire at auto mechanic schools help you prepare for the certification tests.
Best Auto Mechanic Schools
Now that we've discussed how a degree from an automotive trade school can contribute to your career, let's look at the best automotive trade schools to apply to. Or, if you're still unsure about the process, read our comprehensive guide on how to become a mechanic.
1. New England Institute of Technology, Rhode Island
With an Automotive Service Excellence-approved curriculum and multiple industry partnerships, the New England Institute of Technology remains a leader in automotive service technology education.
Our Automotive Technology program has received Master Certification from the
National Automotive Technicians Education Foundation
(NATEF). We also participate in the Ford Maintenance and Light Repair (MLR) program, Mopar Career Automotive Program (CAP) LOCAL curriculum, and the Subaru University program.
If you like speed and high-performance engines, you'll be able to specialize in Automotive Technology with High-Performance.
Fun Fact: Passing the Subaru program will help you achieve the level one Subaru technician certification along with your associate's degree.
You'll learn the theory of operation, design, and servicing techniques using the latest industry standards and cutting-edge diagnostic equipment. Additionally, students who complete an associate's degree at the institute are also eligible to continue for bachelor's in automotive management or business management.
Overview
Degrees Offered:

Advanced Automotive Technology with Fabrication & Refinishing, AS
Automotive Technology, AS
Automotive Collision Repair Technology, AS
Automotive Technology with High Performance, AS
Automotive Service Management, BS

Estimated Tuition Costs (2020-21): $31,827
Percentage of students receiving any form of financial aid: 91%
Student-to-faculty ratio: 10:1
*AS= Associate's, BS=Bachelor's
START YOUR AUTOMOTIVE CAREER
Earn your degree in Automotive Technology from NEIT and begin your new career path today!
2. Ferris State University (FSU), Michigan
FSU is one of the oldest institutes offering accredited undergraduate and graduate programs. The associate of applied science degree at Ferris State University consists of 550 practical hours that'll prepare you for the automotive service industry.
Students can benefit from the robust curriculum at FSU, from diagnosis, calibration, dynamometer to emissions testing, and more.
FSU has received regional accreditation from the higher learning commission, while their automotive engineering technology bachelor's and automotive service technology associate's degrees hold ABET and NATEF accreditation, respectively.
If you want to secure admission in any automotive technology degrees at FSU, you must submit your high school transcripts and SAT/ACT scores.
Fun fact: FSU initially started as an industrial school in 1884 before becoming a full-fledged state university in 1987.
Overview
Degrees Offered:

Automotive Service Technology, AAS
Automotive Engineering Technology, BS
Automotive Management, BS
Automotive Management, Minors
Automotive Management, BS (2+2)

Estimated Tuition Costs (2020-21): $12,376
Percentage of students receiving any form of financial aid: 96%
Student-to-faculty ratio: 15:1
*AAS=Associate of applied science
3. University of Central Missouri (UCM), Missouri
The University of Central Missouri is one of the largest universities in Missouri, offering more than 150 academic programs for over 12,300 students on its campus. The bachelor's degree program at the institute offers aspirants the opportunity to specialize in automotive technology, design technology, or service management as per their interest areas.
Students can also choose a minor in auto tech, where they'll learn the basics of engine repair, design engineering, and auto service management.
Fun Fact: UCM started in 1871 as Normal School No. 2 and later changed its name to Warrensburg Teachers College. What's more, in 1919, it changed to Central Missouri State Teachers College and Missouri State College in 1945.
The last change in its name was in 1972 when it became the Central Missouri State University, before finally taking on the name UCM in 2006.
Overview
Degrees Offered:

Advanced Vehicle Systems, Certificate
Automotive Technology Management, BS

Area 1: Auto Tech.
Area 2: Design Tech.
Area 3: Service Management

Estimated Tuition Costs (2020-21): In-state: $ 8,306, Out-of-state: $15,434
Percentage of students receiving any form of financial aid: 94%
Student-to-faculty ratio: 15:1
4. McPherson College (MC), Kansas
McPherson College has established itself as a leader in automotive restoration technology. It offers a one-of-its-kind bachelor's degree in automotive restoration where students can choose from five specializations, including historic vehicles, communication, design, technology, and management.
You can work at the garage at the college, featuring ten labs for students. With a dedicated space for chassis repair, paint tech, woodworking, electrical systems, and sheet metals, you can learn all the nuances of automotive repair and restoration.
Fun Fact: In 1997, American TV host and auto enthusiast Jay Leno established the Fred J. Duesenberg Scholarship at McPherson to support talented and needy students.
Overview
Degrees Offered:

Automotive Restoration, BS

Area 1: Historic Auto Tech.
Area 2: Automotive Restorative Management
Area 3: Auto Communications
Area 4: Automotive Restorative Design

Area 5: Automotive Restoration Tech
Estimated Tuition Costs (2020-21): $31, 154
Percentage of students receiving any form of financial aid: 100%
Student-to-faculty ratio: 15:1
5. Northwest Iowa Community College (NCC), Iowa
Northwest Iowa Community College offers an extensive range of automotive programs for aspiring technicians. The transportation department provides three associate of applied science degrees in automotive and light-duty diesel technology, heavy equipment operation and maintenance, and diesel technology.
Each specialization at NCC offers a unique curriculum where students can participate in essential diagnostic training shop management programs and learn the maintenance and repair of cars, trucks, trailers, and agricultural equipment.
The heavy equipment program introduces tractors, loading equipment, and heavy transportation machinery.
Fun Fact: NCC's mascot is a mountain lion named Thunder.
Overview
Degrees Offered:

Automotive and Light Duty Diesel Tech, AAS
Heavy Equipment Operation and Maintenance, AAS
Diesel Technology, AAS

Estimated Tuition Costs (2020-21): In-state: $ 6,390, Out-of-state: $6,690
Percentage of students receiving any form of financial aid: 89%
Student-to-faculty ratio: 13:1
6. Lincoln College of Technology, Texas
Lincoln Tech is one of the most famous names in the USA, known for its high-quality education and comprehensive practical training.
The Grand Prairie Campus at Dallas-Fort Worth, Texas, features more than 60 welding booths, manufacturer-specific training areas, industry-standard equipment, and full-fledged auto and diesel bays.
Aspiring automotive service technicians can also participate in the BMW STEP and MINI STEP programs, where they'll get into the specifics of automotive maintenance for BMW and MINI. Students can choose from short-term, job-oriented programs, technical diplomas, or associate's degree programs.
Fun Fact: Lincoln Tech has campuses at more than 20 locations across 12 states!
Overview
Degrees Offered at Grand Prairie, Texas Campus:

Automotive Technology, Diploma
Automotive Service Management, AAS
Collision Repair and Refinishing, Diploma
Diesel and Truck Technology, Diploma
Diesel and Truck with Automotive Tech., Diploma

Estimated Tuition Costs (2020-21): $31,910
Percentage of students receiving any form of financial aid: 95%
Student-to-faculty ratio: 29:1
7. University of Northwestern Ohio (UNOH), Ohio
The University of Northwestern Ohio is one of the top schools for automotive engineering programs in high-performance vehicles, robotics, and alternative fuels. Motorsports racing enthusiasts will enjoy learning at their seven-acre motorsports training complex or joining the UNOH racing team.
More than 70 percent of the curriculum at UNOH includes practical training. So, if you love working hands-on, UNOH has plenty of opportunities for you.
The Bachelor of Science in Automotive Technology supervision in a unique automotive management course at the institute combines technology and management to help students pursue leadership roles in the automotive industry.
Fun Fact: The UNOH Motorsports Team participates in dirt track racing and drag racing events across the United States.
Overview
Programs Offered:

Certificates:

Commercial Driver License

Diploma:

Agricultural Equipment
Agricultural Equipment/Diesel Technician
Alternate Fuels Technician-Automotive
Alternate Fuels Technician – Diesel
Automotive/Diesel Technician
Automotive Technician
Automotive/High-Performance Technician
Diesel Technician
High-Performance Technician

Associate Degree Programs:

Agricultural Equipment Technology
Automotive/Diesel Technology
Automotive/Diesel technology-Light Duty
Automotive Technology
Automotive/High-Performance Technology
Diesel Tech.
Diesel Tech. – Light Duty
High-Performance Technology
Robotics and Automation Technology

Bachelor Degrees:

Automotive Technology Supervision

Estimated Tuition Costs (2020-21): $11,550
Percentage of students receiving any form of financial aid: 92%
Student-to-faculty ratio: 23:1
8. Arkansas Tech University (ATU), Arkansas
If you're looking for short-term automotive programs, Arkansas Tech University might just be the perfect option for you. Besides their associate degree programs, the institute offers a 16-credit automotive service technology certificate and a 36-credit technical certificate in automotive service and collision repair tech.
ATU's automotive service technology programs follow an ASE-prescribed curriculum and maintain the NATEF accreditation. Students get several opportunities to brush up on their practical skills through 'live projects' training and trainer units.
With a well-equipped laboratory and computerized training equipment, you can learn about the maintenance and repair of braking systems, steering, suspension, electrical systems, engine performance, and light vehicles.
Fun Fact: ATU is the third-largest institution in Arkansas, with more than 10,000 enrollees.
Overview
Programs:
Technical Certificate (36-credit):

Automotive Service Tech.
Collision Repair Tech.
Certificate of Proficiency (16-credit):
Automotive Service Tech.
Machining Concepts and Operations

Associate Degrees:

Automation Tech.
Automotive Service Tech.
Collision Repair Tech

Estimated Tuition Costs (2020-21): In-state: $7,668, Out-of-state: $13,236
Percentage of students receiving any form of financial aid: 96%
Student-to-faculty ratio: 17:1
9. Pennco Tech, Pennsylvania
Since its inception in 1973, Pennco Tech has been the technical college of choice for those in the Bristol, Pennsylvania area. Most of the auto mechanic programs at Pennco emphasize real-world skills and practical training for students to seek employment immediately after graduation.
The school has recently partnered with Mazda North America Operation (MNAO) to create an excellent Pennco Tech-Mazda Automotive Program that allows students to graduate with an associate of applied science in automotive technology and become certified Mazda technicians. You'll receive hands-on training on modern automobiles, including hybrid vehicles.
Fun Fact: Pennco Tech initially started as the Pennco School of Electronics by the Philco Corporation.
Overview
Programs Offered:

Associate Degree
Short-term training programs

Collision Repair Technology
Mazda Automotive Training
Diesel Tech (Only at Blackwood, NJ campus)

Estimated Tuition Costs (2020-21): $18,000
Percentage of students receiving any form of financial aid: 75%
Student-to-faculty ratio: 11:1
10. Lake Area Technical College (LATC), South Dakota
The auto mechanic school at Lake Area Technical College offers 18-month automotive degrees that will help you land entry-level employment in the field. More than 75 percent of the training at LATC includes laboratory hours so that students can gain valuable hands-on experience. The institute features 28,900 sq.ft equipped with advanced diagnostic tools and equipment.
At the end of your first year, students can choose to specialize in either Automotive Gas or Light-Duty Diesel specialization, depending on their career aspirations. LATC has also commenced a one-year electric vehicles program where auto tech grads can learn all the essential skills for working on modern electric and hybrid vehicles.
After completing the light-duty diesel tech program at LATC, you can also take the test for A2, A3, A4, A7, and A9 ASE Certifications.
Fun Fact: LATC won the 2022 Niche's Best Community College Award in South Dakota.
Overview
Programs Offered:

Automotive Tech, AAS

Option 1: Light-duty diesel tech
Option 2: Automotive gas
Option 3: Electric Vehicles

Diesel Tech, AAS

Option 1: Diesel Truck and Ag/Industrial
Option 2: Diesel THINK BIG Caterpillar and Ag/Industrial
Option 3: Diesel Case New Holland
Option 4: Diesel Tech Knowledge John Deere by Brandt Holdings

Aviation Maintenance Tech, AAS
Estimated Tuition Costs (2020-21): $ 6,862
Percentage of students receiving any form of financial aid: 93%
Student-to-faculty ratio: 17:1
Automotive Technology Program Checklist
When selecting an automotive technology degree, all trade schools may seem to contain a certain amount of appeal. However, not every training course will provide you with the exposure you need. With intense competition for jobs in the market for entry-level technicians, selecting the right technical college makes all the difference.
If you're planning to pursue an automotive technician degree program, you must look for certain factors typically present in the best auto mechanic schools. Here's a list of the factors you should consider while selecting a trade school:
Practical Exposure
Repairing and overhauling engines, performing wheel alignment, or changing the suspension systems are practical activities. Hands-on exposure is the only way to excel in these areas.
Employers may look at your practical skills even when you're applying for a job. Therefore, you must find a course that provides extensive practical exposure so that you have the opportunity to master all the trade skills you'll need throughout your career.
Accreditation Status
Professional accrediting bodies like NATEF evaluate trade schools for their curriculum and facilities. Only those institutes that meet stringent accreditation criteria receive their accreditation.
Enrolling in an accredited school provides two major advantages. First, you can be confident that the coursework and curriculum are adequate. Second, only those students who complete their education from an accredited institution can apply for ASE certification.
Faculty-Student Ratio
There's no point enrolling in large classes if you're pursuing a technical course like automotive technology training. Small classes work best for getting your hands on necessary tools and training equipment.
A small class size also allows you to quickly approach the faculty with any concerns that may occur. Catering to the individual needs of each student can be challenging in larger classes.
College Infrastructure
In a constantly evolving field like automotive technology, you must stay up-to-date with the latest tools and systems. Check to see that your college of interest has modern machinery and advanced tools relevant to the automotive industry.
Getting hands-on experience on advanced vehicle systems and diagnostic equipment will ensure that you're ready to work on present-day systems immediately after you graduate.
Faculty
The best trade schools have one thing in common – experienced faculty. You must ensure that you're learning from the experts in your field. Read through the faculty bios on the website to check if they have adequate qualifications, certification, and industrial exposure.
Specializations
Look for specializations that align with your career interests and increase your salary prospects. Some colleges offer comprehensive degree programs that cover various aspects in one course. These types of programs are a great option if you're unsure of your specialization.
Tuition Costs & Expenses
While trade school education is typically cheaper than a four-year degree course, the tuition costs at technical colleges can differ significantly. While a low-cost program may not have all the facilities you need, a high-cost program may not necessarily be the best.
If you're moving to another city or state, you must also consider the accommodation costs, travel expenses, and personal expenditure.
You must check the infrastructure, industrial exposure, and training you'll receive versus the fees to determine which school offers the best value for money. If possible, you can try scheduling in-person campus visits to check if the college is worth the tuition you're paying.
Consult with the admission counselor to understand the college's financial assistance and the likelihood of receiving aid.
Course Duration
An associate degree program takes anywhere between 18 to 24 months to complete. You must check the number of credits you'll receive versus the time you'll spend at the college.
If you're spending more time towards your degree, you must ensure adequate training and practical hours in return. Some colleges also allow you to continue for a bachelor's degree and graduate about two years after your associate degree.
You can also apply for short-term training certificates and diploma programs. However, you'll have to complete more on-the-job training hours to improve your employment and growth prospects.
Online Vs. Offline Degree
Many trade schools offer online courses in automotive technology. These courses are well-suited for individuals already working in a garage or an automotive service center.
If you're new to auto technology, we suggest sticking to an on-campus program. These programs equip you with the practical skills necessary for working in the field, which isn't as easy to achieve through online learning.
Automotive Technician: Salary and Job Outlook
According to the Bureau of Labor Statistics (BLS), the median salary of automotive service technicians and mechanics in 2020 was about $21.18 per hour or $44,050 per year. The field will add about 2,100 new jobs in the next ten years.
Similarly, automotive body and glass repairs earned median wages of about
$21.24
per hour or approximately $44,190 annually. The BLS predicts that the auto body and glass repair industry will create 9,800 new jobs from 2020 to 2030.
The demand for diesel-powered trucks is growing as they form the bulk of the logistics and supply chain industry. In addition, diesel cars and light trucks are also becoming popular among consumers, which is why diesel service technicians have become so high in demand.
The BLS estimates suggest that the employment of diesel technicians will increase by eight percent, adding 21,400 new jobs in the field.
The salary, employment benefits, and job growth depend on your qualification, specialization, experience, certifications, and job location. A good education program, ASE certification, and work experience can help you secure a higher salary.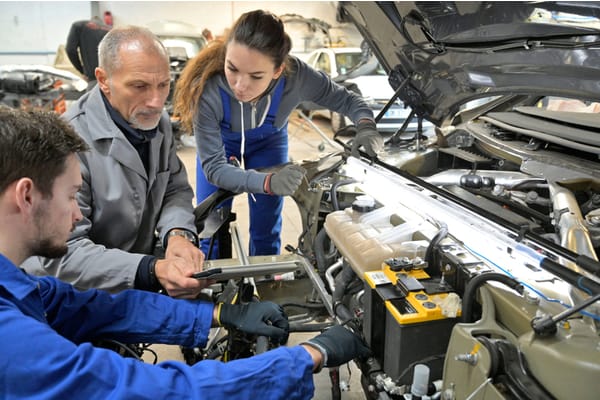 Conclusion
An automotive trade school can help equip you with the necessary knowledge and skills to excel in automotive repair and maintenance. While many schools and colleges offer automotive technology programs, the best trade schools offer comprehensive training, cutting-edge infrastructure, and industry-affiliated programs.
The New England Institute of Technology is one of the best schools for pursuing a career in automotive technology. Our comprehensive curriculum, modern equipment, training facilities, and experienced faculty ensure that every student gets the best exposure.
Learn more about the academic programs at the New England Institute of Technology.
START YOUR AUTOMOTIVE CAREER
Earn your degree in Automotive Technology from NEIT and begin your new career path today!
FAQs
How Much Do Mechanics Make?
Automotive mechanics and service technicians have a median salary of about $21.18 per hour or $44,050 per year. Diesel mechanics and service technicians make $24.13 per hour or about $50,020 annually.
Is It Worth Going to School for Automotive?
An automotive school helps you learn the theory and practical skills necessary for becoming an automotive technician. You'll also receive practical training and lab work at a trade school.
Most employers prefer mechanics who've completed their formal education from an accredited school. Completing an accredited training program is also mandatory to receive your certification and licensure.
Can I Be a Mechanic If I Know Nothing About Vehicles?
It does not matter if you're new to automotive technology or do not know anything about cars. Most formal education programs start from scratch and help you gain the skills necessary for becoming a mechanic.
How Long Does It Take to Become a Car Mechanic?
An associate degree in automotive technology takes anywhere from 18 to 24 months to complete. You can also sign up for short-term training programs to seek entry-level jobs as a car mechanic.
However, if you want to become a certified car mechanic, you must complete at least two years of on-the-job training or one-year training with your associate degree. You can apply for your ASE certification only after meeting the eligibility criteria and work experience requirements.
Can I Enroll in a Trade School Online?
You can learn online by going through an automotive trade school. But ASE certification mandates a passing test score and two years of experience or one year of experience with an associate degree.
What Is the Highest-Paid Automotive Mechanic?
The demand for auto mechanics fluctuates according to their area of expertise. The best-paid mechanics in the US include aircraft mechanics, industrial machinery mechanics, Mobile heavy equipment mechanics, or diesel mechanics.
According to the BLS, the median pay of Aircraft and Avionics Equipment Mechanics and Technicians was $66,680 in 2020.
Is Auto Mechanic a Good Job?
If you're looking for a gratifying and high-paying career, consider becoming a mechanic once you're done with school. There is actually a shortage of mechanics right now, which has increased demand dramatically. These individuals also enjoy the ability to work with their hands, and away from the desk.
The best way to develop into an efficient mechanic is to go to a good auto mechanic training school to acquire abilities, knowledge, and expertise.
Can You Be a Mechanic Without a License?
It might be possible to become a mechanic without a license, but it depends where you live. Some states in the US do not require you to have a license to work as a mechanic. However, most employers will expect some formal training and education, in addition to work experience.