While most of us have a pretty basic understanding of what electricians do, things seem to get a little muddled when it comes to the specialty areas. The truth is that there are tons of different kinds of electricians out there.
Some specialize in residential work, while others focus on commercial buildings, industrial areas, and more. If you're interested in learning more about the different types of electricians, check out the information below.
START YOUR ELECTRICAL TECHNOLOGY CAREER
Earn your degree in Electrical Technology from NEIT and begin your new career path today!
We look into the spectrum of responsibilities electricians handle, the education it requires, salary expectations and more.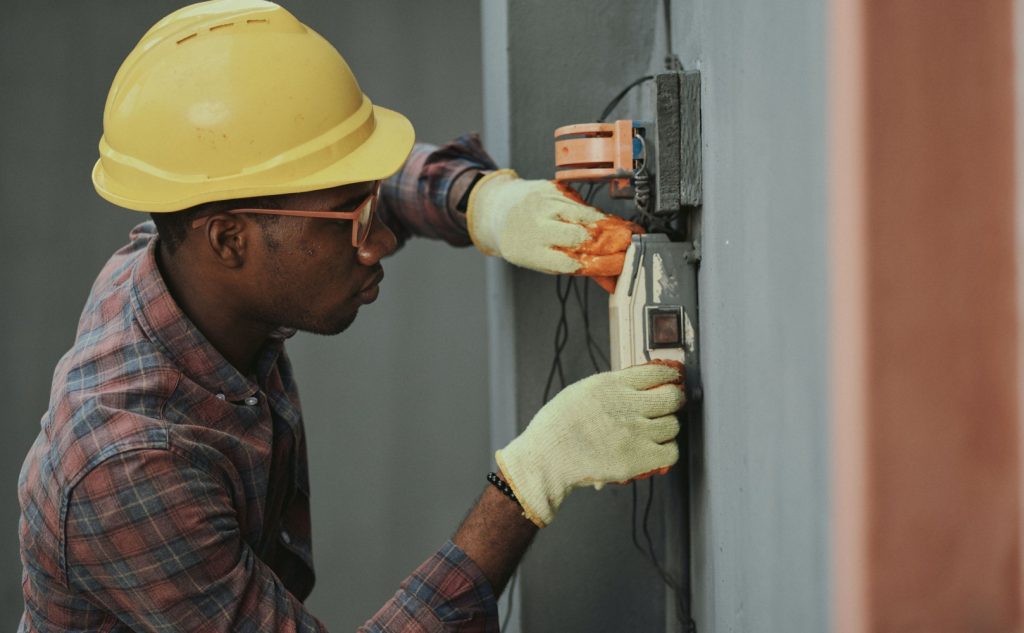 Stages To Become an Electrician
There are a number of different ways to break up the different types of electricians out there, so let's begin by divvying up the titles based on education.
Apprentice Electrician
Electricians are provided with a few different ways to break into the field. One option revolves around the decision to pursue an Associate Degree in Electrical Technology. These programs are offered across trade and technical institutes around the country and typically take around two years to complete.
Still, there are other options to entertain. Remember, electricians do not need any sort of formal education to begin work in the field, but they do need some instruction. Individuals who are looking for a more direct introduction into the industry should look for an apprenticeship program.
These four-year job training programs allow individuals to begin work immediately as an electrician assistant. As an apprentice, individuals will enjoy working under the supervision of a seasoned professional in the field. They will receive the hands-on experience required to advance their career.
Journeyman Electrician
Upon completion of an apprentice program, individuals will be eligible to take a test to become a Journeyman Electrician. This title implies that the individual is licensed and able to work without supervision.
Master Electrician
A master electrician is someone who has received the highest electrician's certification possible. These individuals, including females, are eligible for work on more complex projects and can supervise journeymen electricians.
While requirements vary state to state, a master electrician will typically be asked to complete around 4,000 hours as a journeyman electrician and pass a licensing exam.
What Are the 4 Types of Electricians?
There are four specialty areas to choose from when pursuing a career as an electrician. These titles include outside linemen, inside wiremen, installer technician and residential wiremen.
Outside Lineman
Outside linemen work outdoors on electrical power line transmissions. They are responsible for making sure electrical wiring is properly functioning and that power is being properly distributed from generation facilities to end-users.
These electrical contractors work across industrial, commercial and residential markets. High voltage lineman may work on high-tension voltage lines positioned hundreds of feet above the ground. This is one of the more physical areas an electrician can work in.
An outside lineman must receive extensive safety training, including climbing school and ongoing training performing high-angle rescues in case a coworker is injured on the job.
Inside Wireman
These electricians are largely responsible for on-premises electrical wiring and distribution. That means they are responsible for connecting the client's electrical equipment to the power source.
These contractors often help install conduit, lighting fixtures and electrical outlets. They might be asked to inspect and maintain electrical motors and equipment or install alarm systems or electrical control panels. They may also be expected to inspect, maintain and repair existing systems within a given facility.
Installation Technician
Installation technicians work alongside inside wiremen to install a network of low voltage cabling used for video, voice or data outlets. While most of their work takes place indoors, they must often work under less than desirable conditions. For instance, they may be required to report to buildings which have not yet had air conditioning or heating systems installed.
Residential Wireman
Similar to the inside wireman, a residential wireman are responsible for connecting a client's electrical equipment to the power source. The similarities between the two titles largely ends there, as these electricians work to maintain the electrical systems in home or perform other types of residential installations.
A residential wireman must keep up with technical advancements across the residential market. They may need to install computer networks, energy management systems, security systems, fire alarm systems as well as distribution systems to lights and receptacles throughout the home.
Types of Electricians Are There Based on Specialization?
A licensed electrician can also select certain areas of specialization. They may decide to focus on residential, commercial, industrial or maintenance work. You can find descriptions of some popular specialty areas below.
Residential Electricians
A residential electrician is a fairly popular position within the field. These individuals are generally responsible for maintaining, troubleshooting and upgrading electrical systems within a home. This includes lighting, heating and cooling systems. A residential electrician will work across a number of residential settings including houses, apartments, condos and more. They may work independently or for an electrical contractor.
Commercial Electricians
Commercial electricians perform similar duties to the residential electrician, but work in commercial buildings. Based on the number of people who frequent their workspace, a commercial electrician must always operate with public safety in mind. A commercial electrician may also be asked to install security systems, electronic systems, and heating and cooling systems fit for an office.
Industrial Electricians
You can find an industrial electrician working on large-scale projects across industrial facilities like factories, manufacturing facilities and power plants. An industrial electrician works with large machinery and computer systems used to facilitate the industrial process. The electrical work needed in these buildings will exceed those in commercial or residential settings.
Maintenance Electricians
Maintenance electricians must install, maintain and monitor electrical systems operating in plants and factories. They are responsible for making routine inspections to check on current equipment. If operating conditions are not up to satisfactory, they must conduct timely repairs or make plans to replace the equipment.
Installation Electricians
Installation electricians work with electrical system installation in new buildings. This includes setting up all electrical equipment and wiring for lighting, heating and cooling and security systems. They may split their time between residential, commercial and industrial projects.
Construction Electricians
Construction electricians also perform electrical work in new buildings. These contractors must perform basic wiring and maintain a vast knowledge of building codes, safety procedures and similar subjects.
Automotive Electricians
An automotive electrician specializes in installing and maintaining many of the electrical systems found in motor vehicles. These electricians may also rely on computer-based repair tools to complete a project. Workers must develop a thorough understanding of vehicle diagnostics, performance electronics, drivetrain systems, and other aspects of motor vehicles.
Marine Electricians
One of the rarer specializations found across the electrical industry, marine electricians will likely train at a specialized trade or seamanship school. A marine electrician will typically work on jobs involving water-faring vessels, such as boats, ships, yachts, and other marine equipment.
Highway Systems Electricians
A highway systems electrician, also known as a highway electrical system electrician, is responsible for installing, maintaining, repairing, and upgrading electrical infrastructure used on roadways such as streetlights, signage, and traffic management systems. These individuals hold certifications and licenses that allow them to work with electronics for road systems needed to maintain a safe and sustainable transportation system.
Learn to Become an Electrician at the New England Institute of Technology
Start your career in the electrical field by earning an Associate Degree in Electrical Technology from NEIT! Our program will provide the training individuals need to land a job as licensed journeyman electricians.
START YOUR ELECTRICAL TECHNOLOGY CAREER
Earn your degree in Electrical Technology from NEIT and begin your new career path today!
Our courses are designed to integrate electrical theory and hands-on application. You'll receive practical training in our leading-edge industry labs taught by experts in the field. This provides you with the skills to wire and install electrical systems and apparatus as well as the mathematical and practical knowledge needed to support, explain, and troubleshoot a wide variety of electrical projects.
We will also provide training in the following areas:
AC/DC theory
AutoCAD electrical
Industrial automation, such as PLCs, PACs, and HMIs
Motors and motor control, such as variable speed motor drives
OSHA 10-hr. Construction Card
Power and control circuit installation like raceway design/build
Power transmission, supplies, and distribution & drives
Renewable and sustainable energy – including solar, wind, geothermal, biomass, hydroelectric power and hydrogen fuel cells
True RMS voltmeters, power meters, OHM & AMP meters and Megger test equipment
After graduating, students will be qualified to pursue a variety of positions, such as:
Aircraft Maintenance/Radar/Avionics
Automation Technician
Biomedical Equipment Technician
Electro-Mechanical Technician
Fiber-Optic Technician
Nuclear Generator Test Service Technician
Photovoltaic Installation Technician
PLC/PAC Programmer
Railroad Signal and Switch Operator
Robot Production Technician
Satellite Technician
Specialized Marine Sonar Technician
Click here for more information on how to apply. You can also call us at 401-467-7744 to speak to a representative today.