Program Overview
Learn Cybersecurity and Network Engineering best practices in the design of secure, modern networks as well as how to protect computers and network systems. Combining security theory and hands-on practice, our bachelor's degree course topics include computer systems, mobile and network forensics, Windows and Linux security, incident response, evolving threats, and the proper use of specific security tools.
Prepare for a career in networking and cybersecurity industries with the Bachelor of Science degree program in Cybersecurity and Network Engineering at New England Tech.
NEIT offers one of the best network engineer degrees around. The Department of Homeland Security and the National Security Agency have designated NEIT as a National Center of Academic Excellence in Cyber Defense (CAE-CD), adding credence to our network engineering and cybersecurity degree programs.
If you love the challenge and excitement of tackling critical cybersecurity threats, this bachelor's program is one of the best courses to propel you to the front lines of this critical industry. As a graduate, you would be eligible to take internationally recognized exams like the CompTIA Security +, CCNA, and MCSA exams.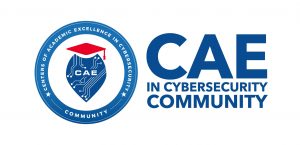 Read More
Home to Central Rhode Island's only Cyberbit Simulation Range

NEIT is home to Central Rhode Island's only Cyber Simulation Range. The NEIT Cyberbit Range is a state-of-the-art virtual simulation tool will that will provide the critical hands-on training and confidence that Cybersecurity students will need to stand out and meaningfully contribute to a real-world cybersecurity team beyond graduation. Through a partnership between New England Tech and Cyberbit, the simulation platform trains students and IT professionals through exercises that are virtually identical to the technically complex and high-pressure situations they will face in the real world.
Full Description
The Cybersecurity and Network Engineering program, offered by the Information Technology Department, will prepare graduates for real-life careers in the networking and cybersecurity industries.
The Bachelor of Science degree is ideal for students who already possess an Associate in Science degree in Network Engineering or a related discipline and continues on the base built during the associate degree.
Explore and further your knowledge of the world of network security and develop problem-solving skills and expertise in cybersecurity and related technologies. This degree program gives students more hands-on experience in the management of Local Area Networks (LANs), intranets, Wide Area Networks (WANs), and exposure to configuring and managing web servers.
This degree-level curriculum includes core topics in the realm of cybersecurity, such as computer systems, mobile and network forensics, Windows and Linux security and incident response.
Students will learn best practices for secure, modern network design as well as how to secure existing computers and networks. Students will learn about evolving threats and the proper use of specific security tools. The program focuses on security theory and hands-on practice, with relevant software, website resources, and networking technology.
Courses like incident response show how to investigate intrusions in computer networks and systems and document malicious software incidents. Such skills and experience in hardware and software for security network management are important in many related fields like software development.
Our faculty have significant industry experience, and can help you network for cooperative learning experiences and full-time positions.
A key feature of this network engineering degree is a senior project and the opportunity to choose between additional coursework or a cooperative learning experience in the final two terms. In the senior project, each student works with a faculty member to develop and present a project that focuses on a particular topic and allows students to bring together knowledge gained throughout the program.
The cooperative learning experience, based on industry demand and with the approval of the IT Department Chair, may be available during the final two terms of the program. These experiences (paid or unpaid) allow students to receive college credit and to work off campus in an organization where they will practice and enhance their technical skills.
Typically, and when available, students will work in the same organization for the final two terms of the bachelor's degree program.
Graduates of this network engineering degree will be eligible to take such internationally recognized certification exams as the CompTIA Security + and Network+ exams, the Cisco Certified Network Associate Certification (CCNA), and the Microsoft Certified System Administrator (MCSA).
With a Bachelor of Science degree in Cybersecurity and Network Engineering, students can compete for positions like systems operations and maintenance professional, network security specialist, digital forensics and incident response specialist, vulnerability analyst, and LAN managers. Positions in law enforcement will also be attainable.
While the emphasis of the program is on network security, graduates qualify for positions advertised as network administrators, network engineers, and network analysts. According to the U.S. Bureau of Labor Statistics, jobs for network and computer systems administrators will grow in coming years with enterprises investing in newer technology, adding to the already-high demand for IT workers.
Upon successful completion of this program, students can also continue into the NEIT Master of Science in Cybersecurity Defense degree program.
Potential Career Opportunities
Our program gives you the qualifications to pursue job positions in network security and engineering, and cybersecurity in various sectors. These roles may include:
---
Digital Forensics Specialist
FBI – Cybersecurity Analyst
Information Security Analyst
Network Engineer or Analyst
Systems or Network Administrator
Cybersecurity Analyst or Engineer
Network Security Specialist
Incident Response Specialist
Vulnerability Specialist
LAN Manager
Related Programs
Learn More
Learn More