Why Choose NEIT for Cybersecurity?
There's a significant shortage in commercial and government sectors for cybersecurity professionals, yet demand is booming since it's one of the most critical IT functions. That means getting on a cybersecurity track with cybersecurity degree programs that make you one of the most sought-after job candidates on the market. What's even better?
NEIT offers one of the best network engineering degrees around. The Department of Homeland Security and the National Security Agency have designated NEIT as a National Center of Academic Excellence in Cyber Defense (CAE-CD), adding credence to our network engineering and cybersecurity degree programs.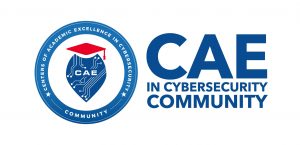 With our cybersecurity degrees you'll enjoy a fast-moving career path in an industry that's always changing. At New England Tech, we're a leader in getting cybersecurity professionals poised for opportunities with our degree programs by offering hands-on practice in simulated lab environments with industry-specific technology and software. As part of our cybersecurity programs, dive deep into VMware, Fortinet Unified Threat Management, Skytap Virtual Cloud Platform, Kali Linux, and more. From day one, you'll be learning technical skills from industry leaders who present real-world cases to solve. Our cybersecurity students are eligible to take internationally recognized cybersecurity exams, so you walk out the door with both a cybersecurity degree and a highly valued cert. We've launched IT careers for decades, and we'll ready you for the best cybersecurity jobs and career opportunities.
Home to Central Rhode Island's only Cyberbit Simulation Range

NEIT is home to Central Rhode Island's only Cyber Simulation Range. The NEIT Cyberbit Range is a state-of-the-art virtual simulation tool will that will provide the critical hands-on training and confidence that Cybersecurity students will need to stand out and meaningfully contribute to a real-world cybersecurity team beyond graduation. Through a partnership between New England Tech and Cyberbit, the simulation platform trains students and IT professionals through exercises that are virtually identical to the technically complex and high-pressure situations they will face in the real world.
Associate Degree Program
Armed with our associate cybersecurity degree, our students become cybersecurity professionals in just 18 months. You can also be ready to take on positions like digital forensics specialists, FBI cybersecurity analysts, information security analysts, and more with our associate degree program in the cybersecurity field.
Bachelor's Degree Program
Students of our cybersecurity degree program graduate in as few as 18 months after receiving their degree. Qualify as cybersecurity professionals and choose positions such as systems or network administrator, information security analyst, incident response specialist, and more to start your career path.
Master's Degree Program
Our master's cybersecurity degree program gears students to graduate in 18 months, ready to step into top positions like Chief Information Officer, Chief Information Security Officer, Director of Software Security Engineering, and more.  If joining NEIT directly from high school, you may graduate with a Master of Science Degree in Cybersecurity Defense in as little as 4½ years.